2017 Incidents
Jan
31
Feb
22
Mar
32
Apr
39
May
26
Jun
28
Jul
38
Aug
25
Sep
38
Oct
40
Nov
35
Dec
29
Total
383
Yearly Incident Totals
2017
383
2016
394
2015
343
2014
317
2013
331
2012
338
2011
324
2010
309

Visitors Today:

Visitors Since
November 18, 2005:


By Lieutenant David Dowd
June 14, 2016
On Tuesday June 14th members of the Irvington Fire Department conducted a refresher training session on FAST skills. Firefighters practiced self extrication as well as extricating other members in the event of an emergency. These skills are critical on the fire ground in the event of a firefighter or civilian getting injured during a fire.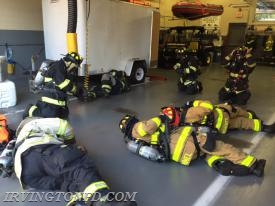 IFD Members practicing their FAST skills last Tuesday.